Top 10 attracties in Hurghada
Vind Top 10 Attracties in Hurghada, Hurghada werd gesticht in het begin van de 20e eeuw en bleef tot een paar jaar geleden een klein vissersdorpje. Maar vandaag is het uitgegroeid tot het belangrijkste toeristenoord aan de kust van de Rode Zee en een internationaal centrum voor watersport.
---
Top 10 attracties in Hurghada
Hurghada
was founded in the early 20th century, and until a few years ago, remained a small fishing village. But today, it has gone on to become the foremost tourist resort of the Red Sea coast and an international centre for aquatic sports. If it takes place in or on the water you can do it here: windsurfing, sailing, deep-sea fishing, swimming, but, above all, snorkelling and diving. The unique underwater, gardens offshore are some of the finest in the world, justifiably famous amongst divers. It is located on the western coast of the Red Sea, 500km south-east of
Cairo
, and stretches for about 36 kilometres (22 mi) along the seashore, and it does not reach far into the surrounding desert.
Hurghada
is bordered by Ras Gareb in the north, Safaga in the south, Red Sea coast in the east and Sohag and Assiut Governorates in the west. The warm waters here are ideal for many varieties of rare fish and coral reefs, which may also be observed through glass bottom boats. This area has many fine accommodations, usually offering warm and efficient service. Restaurants are mostly along the main road. While in
Hurghada
, don't miss the museum and aquarium, with their complete collections of flora and fauna of the Red Sea​​​​​​
1- GIFTUN ISLAND
Gifton Island is one of the largest islands in the Red Sea as it is the second-largest island after Shedwan Island. It is known for its rare coral reefs, colourful fish, and extraordinary birds. It includes more than 196 kinds of solid coral reefs which represent about 80% of the biodiversity of the coral reefs in the Red Sea. Also more than 794 species of coral reefs fish.
2-PARADISE ISLAND
Like in Paradise. White sandy beach with crystal clear water. it's located in the big Giftun Island beach. Paradise Island is provided by huge parasols, bean bags and matters to lie down, restaurant and bar in which you can enjoy in belly dance and dervish performance.
3-DOLPHIN HOUSE
Dolphin House is a place in the Red Sea In
Hurghada
where a lot of dolphins gather with each other play and swim in groups. The tourists are looking forward to watching them jumping and playing. The tourists make their day when they have the chance to swim with Dolphins or even see them. If the weather is ok, the chance will be better to see them, especially in the early morning.
4-SHARM EL-NAGA
Sharm El Naga Resort is best known for its beautiful coral reefs and its crystal clear water. This peaceful bay lies 40 km from
Hurghada
, the vibrant town on the Red Sea, Coral reef straight at the beach. Lots of fish in many colours. Beach sandy beach, The sea and the reef are amazing, there are fish swimming around 2 m from the shore, with enough palm leaf umbrellas and sunbeds for everyone. A good place to snorkel and spend a day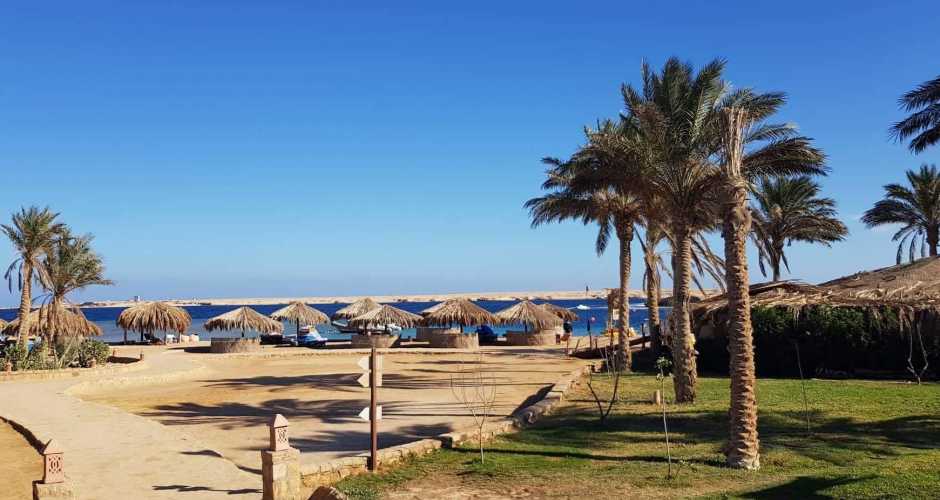 5-HURGHADA MUSEUM
The
Hurghada
Museum is the first to be inaugurated in partnership with the private sector in Egypt. It houses 1,000 artefacts including royal pieces that date back to the royal epoch in Egypt at the beginning of the 20th century. The museum is expected to contribute to boosting tourism in the Red Sea governorate east of
Cairo
.
Hurghada
is a city in the Red Sea governorate, a major tourist centre 400 km from the capital. The museum, which covers 10,000 square meters, displays artefacts and has an entertainment area, shopping complex and parking lots. It cost 160 million Egyptian pounds ($10 million). Museum officials have put on show the statue of Queen Meret Amun, replacing the King Tutmoses III plate. They decided to give the statue a more prominent place in front of the museum.
6-HURGHADA MARINA
If You decide to spend a nice time at night, so your best destination is Marina in
Hurghada
. Starting from June 2008
Hurghada
Marina offers the City of
Hurghada
a new look, a place where the tourist and also the residents can walk in the afternoon and breath fresh sea air at night away from the noise of Sakala without anybody disturbing, whenever you feel like having a rest on the seaside in a cosy restaurant admiring contours of fine yachts and boats
7-HURGHADA DESERT
Hurghada
Desert is a part of Eastern desert which stretches along the Red Sea coast. There are many activities to do in the desert-like safari, camping watching the stars, climbing the mountains or visiting the villages of the bedouin. With so much action happening in the water, some travellers forget that back onshore there's an entire desert world to explore. Among
Hurghada
's most popular on-the-ground things to do are quad biking, jeep expeditions, and dune buggy trips into the sand dune hinterland. You don't have to travel very far off-road from the resort town to discover the acacia tree-studded
wadis
(valleys), sandwiched in by red-tinged mountains, that make up most of the landscape of the Eastern Desert.
8-MOSQUE EL MINA MASJID
Mosque El Mina Masjid, Elmina Mosque a unique architectural monument expresses the Islamic architecture built in the heart of old
Hurghada
directly on the sea. Incredible place and architecture are amazing. Open to all tourist but you must show respect as it is a religious place. A huge masjid with beautiful architecture, with fantastic towering minarets, very close to the marina, need to dress modestly when visiting as with most religious places. Also very beautiful at night with the illumination, free to visit and enter.
9-EL DAHAR IN HURGHADA
El Dahar market for vegetables and fruits is the main market in El Dahar area in
Hurghada
which is very famous for a lot of different and various kinds of goods not only fruit and vegetables but also clothes, meat and other handicrafts. This busy market is where you are completely taken away from big beach resorts and fancy shopping areas with just the locals just going on about their daily life. Hassle-free and safe, you can pick up bargains by haggling over spices, fruit, fresh fish, clothing and handicrafts.
10-COPTIC CATHEDRAL OF SAINT SHENOUDA
Coptic Cathedral of Saint Shenouda is located in
Hurghada
.it belongs to the Coptic Orthodox community. It appears to be quite modest from the outside, but inside the architecture is intricate and simply astounding, featured especially on the stained-glass windows and the painted ceilings, as well as interesting religious murals and paintings above the altar. Travellers can find a second church under the main cathedral to accommodate the overflow of worshipers that attend on special religious days. Tourists can visit the cathedral on their own, but most people choose to go there as part of a guided tour to learn about the fascinating history here, with tour guide's pointing out the building's most interesting features. Unlike some other churches, tourists allowed to take photographs at Sain Shenouda but you must be considerate of those that are there to worship.